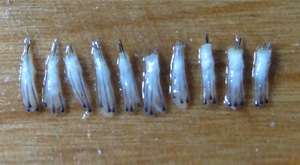 Three & Four Hair Grafts
We have mastered the art of creating good FUT kind of grafts with FUE technique.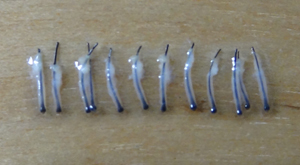 Beard Hair Grafts
Robust Beard Hair Grafts have better and long lasting growth. Beard Hair is growing because of androgens while Scalp Hair is falling because of androgens making it the best choice.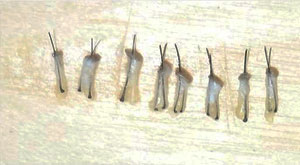 Chest Hair Grafts
Chest Hair grafts can be used as fillers mixed and blended with Scalp Hair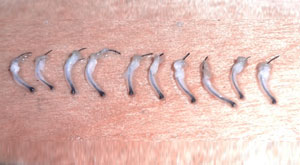 Curly Hair
Precise skill required for harvesting curly hair. It can't be duplicated even by Robotics.
Patent granted to Nutrigenetics Hair loss treatment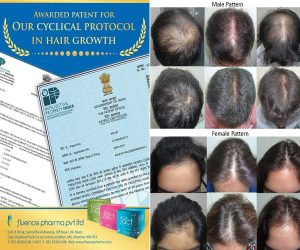 Clinical success of research work by Plastic Surgeon Dr. Rajesh Rajput, Rajendrasingh has been granted a patent as 'Novel Therapy for Hair Loss'.
The therapy kindles 'Nutrigenetics' of the hair growth cycle with once in three days, low dose vitamins, minerals, omega 3, biotin, amino acids, herbal phytochemicals, and flavinoids proportions. You can find 12 different peer-reviewed publications of the research on the prestigious 'Reserchgate' community portal, where this work has over 9500 global research followers.
The specific therapy is tailored for each type of hair loss. You can see successful hair regrowth within 2-3 months for:
Hormonal hair loss,
Thyroid hair loss,
DHT hair loss…
Know Your Surgeon
Dr. Rajesh Rajput
We have trained more then 150+ doctors from India and abroad over past 25 years. Have performed more then 5000+ hair transplants since 1992 and have treated more then 30000+ patients with cyclical medicine.
Dr. Rajesh Rajput is Pioneer in hair transplant who introduced Follicular Unit Micro Grafting in India. He has liberally trained and inspired others in this field to take up Hair Transplant surgery.
Best Technique & Why?
FUE (follicular unit extraction) hair transplant surgery is far less invasive than traditional FUT or strip surgery.
There is no use of scalpel or staples or sutures. FUE is far better described as a "procedure" than as a "surgery". With this technique, the donor area is shaved down to the skin so the individual follicular units (FU's) are exposed.
Dr. Rajesh Rajput is Pioneer in hair transplant who introduced Follicular Unit Micro Grafting in India. He has liberally trained and inspired others in this field to take up Hair Transplant surgery.
Once the individual follicular units are visible, we can cherry-pick the most ideal FU's to be extracted. Usually the units with the most follicles are chosen for removal.
Testimonials
Dear Dr Rajesh,
Today's Hair Transplant as done by you on me was excellent and exceeded my expectation. The whole procedure right from start to the end was just perfect.
Your skill in doing the procedure with minimum pain was great and put me at ease. The set-up at Bandra is excellent and I would like to congratulate your wife for the wonderful interiors and excellent planning.
When I appreciate something I would like the person to know. My wife Caroline also was very impressed.
Thanks.
My experience with dr. rajesh is very enjoyable, smooth and transparent in terms of cost, quality, procedure, suggestions, and care. It is just 48 hours passed since procedure but not a single moment I felt I have at the wrong place. The ambiance of clinic, staff, medicines, cool pack, enzymes, aftercare everything was flawless and commendable.
My suggestions to transplant aspirant are to beware of franchise-based clinic mushroomed all over the world. Talk and meet the doctor apart from sales staff before the procedure.
Experience of the doctor is supreme than anything else.
I remember one line of Dr. Rajesh Rajput "we can freely roam in the city with no transplant but can't be with a bad transplant."
Dear Sir,
My daughter, Ms. Hiral Mehta had consulted you for her hair loss problem.
She left for USA for her exams. She would write to you a detailed mail but we could not delay writing this small piece of appreciation and gratitude for wonderful, scientific yet common sense, non-reactive method developed by you.
Her hair fall has indeed dramatically come down.
Thank you doctor, not only at commercial level of a patient but at a personal level as a human being for this humane treatment.
Patient From Around the World